November 08 2019PokerNews Staff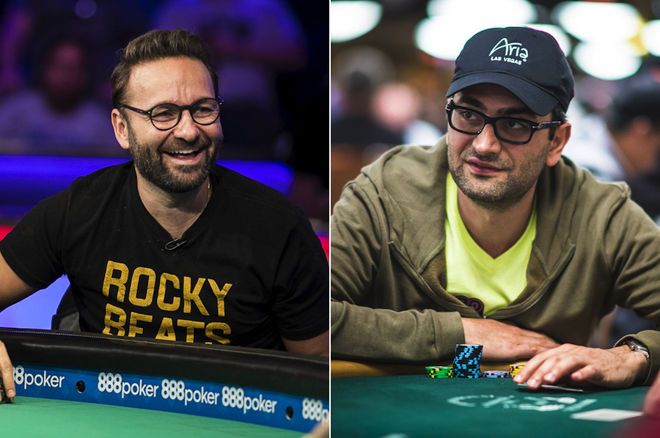 The popular show High Stakes Poker debuted in early 2006, with the first season lasting 13 episodes. Throughout the show's run, episodes were culled from multi-day sessions, so often the same players would be sitting around the table from week to week, although new players were frequently rotated in to change the makeup of the game.
Years later the shows remain highly entertaining, and can even be educational. For new poker players they introduce the game while illustrating many strategic concepts, while those with experience can watch and recognize how certain strategies have evolved over the years since the shows aired.
We're continuing our review of shows from Season 1, today looking back at Episode 12. Phil Hellmuth returns for this one, down $150,000 from the previous show, while Daniel Negreanu is also still working on climbing out of his Season 1 hole, down more than $400,000 for the season when this episode begins.
Negreanu is active and loose from the start (as usual), clashing early on with Johnny Chan and then Antonio Esfandiari in a couple of interesting back-to-back hands.
In that latter hand with Esfandiari, the pair engage in some especially interesting table talk after Negreanu raises all in on the flop to put Esfandiari to the test for his stack. Ultimately Esfandiari is able to make a difficult (and correct) call, but the drama doesn't end there.
Meanwhile Hellmuth continues to get aggravated after losing a number of small hands, though he does manage to get some back in a multi-way hand in which he flops trips and rivers a full house.
However, a later clash with Barry Greenstein doesn't go so well for Hellmuth, and many censor's beeps ensue. "He sounds like a rapper," cracks the late Jerry Buss, earning some well-deserved chuckles.
High Stakes Poker: Season 1, Episode 12
Originally aired:April 3, 2006Location:Golden Nugget, Las VegasPlayers:Jerry Buss, Todd Brunson, Johnny Chan, Antonio Esfandiari, Barry Greenstein, Jennifer Harman, Phil Hellmuth, Daniel NegreanuCommentators:A.J. Benza, Gabe KaplanGame:no-limit hold'em cash game, minimum $100,000 buy-inStakes:blinds $300/$600, ante $100
Big Hand Alert
That Esfandiari-Negreanu hand mentioned above created the biggest pot of the episode, $173,900 — 14:00 mark
Sharelines
A look back at S01E12 of "High Stakes Poker" in which @MagicAntonio made a big call v. @RealKidPoker.

High Stakes Poker Reviewed: Esfandiari and Negreanu clash, while Hellmuth's steaming continues.
Top Ten Poker Products
Sale
Bestseller No. 2
Bestseller No. 3
Bestseller No. 4
Bestseller No. 5
Professional 500 Chips (11.5g) Poker Set with Case by Rally & Roar - Complete Poker Playing Game Sets with 500 Casino Style Chips, Cards, Dice, Aluminum Case & Keys:...
ONE KIT, SO MANY OPTIONS: You don't need a casino to achieve the thrill of a high stakes poker or blackjack game. With the Rally and Roar poker accessories set, this all-inclusive...
WHAT YOU RECEIVE: Our poker playing supplies include 500 chips (11.5g), 2 full decks of cards, 1 dealer chip, large and small blind chips, 5 resin dice (19mm), and an aluminum travel...
SUPERIOR CRAFTSMANSHIP: The gambling sets exude high-quality, professional-grade build. From the protective, aluminum shell of the case to the durable, detailed chips, our complete game...
Sale
Bestseller No. 6
Bestseller No. 7
Bestseller No. 8
Bestseller No. 9
Bestseller No. 10