Published in 2011, Jared Tendler and Barry Carter's book The Mental Game of Poker is one of the few poker books that can lay genuine claim to having changed the poker landscape.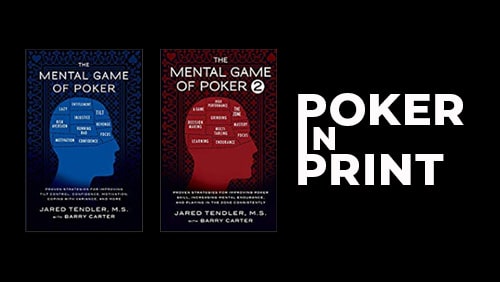 While the enemy of 'Tilt' and controlling that inner menace that can put any player off their game has always been a part of poker forever, never has it been better analysed than in this literary phenomenon.
The combination of a deeply intelligent author and a co-author with an innate understanding of how to appeal to poker players of all levels is something very familiar to regular readers of this series, with our recent interview with Dara O'Kearney and Barry Carter about their Poker Satellite Strategy book.
Tendler and Carter's collaboration is just as satisfying as Carter's work with O'Kearney, and the book is just as priceless to poker players. Controlling that inner beast that can affect your poker game in a negative manner is something every professional player has had to contend with, but very few players succeed wholly in doing so. The best players in the world, however, have a real handle on their emotions, and such was the feedback after the release of The Mental Game of Poker that players of elite levels were clamouring for a copy.
The book was successful. Very successful. But what it also did was to make players think about their own mental health. The strength of character a poker player needs has never been in doubt, it's a key component required by any professional gamblers to deal with the downswings, mad setbacks and bad beats that, if you play poker regularly, are simply part of the game and par for any course.
The Mental Game of Poker had a huge influence over the change of culture in poker that has seen apps like Fedor Holz's Primed Mind attempt to help poker players stay calm, Elliot Rowe prescribe perfect hypnotherapy and a thousand other life coaches and poker trainers appeal to the brain as much as the mind.
With every poker book, the game naturally moves on. Players take on new information and the game itself adjusts. Every optimal game theory can, logically, be countered. But unlike strategy books that can simply give you the best chance of playing peak poker at the time of the book's release or for a limited time thereafter, The Mental Game of Poker's advice still holds true today.
The techniques still work.
The lessons can still be learned.
In a sense, The Mental Game of Poker and The Mental Game of Poker 2 act as checkpoints for poker players. At a certain level, every poker player will be able to make use of the advice within their pages. As true today as upon release, the teachings of Tendler, via the countenance of the Midas-like Carter, will help you become a better player.
And that's not just in the mind.
Comments
Top Ten Poker Products
Sale
Bestseller No. 2
Bestseller No. 3
Bestseller No. 4
Bestseller No. 5
Professional 500 Chips (11.5g) Poker Set with Case by Rally & Roar - Complete Poker Playing Game Sets with 500 Casino Style Chips, Cards, Dice, Aluminum Case & Keys:...
ONE KIT, SO MANY OPTIONS: You don't need a casino to achieve the thrill of a high stakes poker or blackjack game. With the Rally and Roar poker accessories set, this all-inclusive...
WHAT YOU RECEIVE: Our poker playing supplies include 500 chips (11.5g), 2 full decks of cards, 1 dealer chip, large and small blind chips, 5 resin dice (19mm), and an aluminum travel...
SUPERIOR CRAFTSMANSHIP: The gambling sets exude high-quality, professional-grade build. From the protective, aluminum shell of the case to the durable, detailed chips, our complete game...
Sale
Bestseller No. 6
Bestseller No. 7
Bestseller No. 8
Bestseller No. 9
Bestseller No. 10